About Us
Anish Motwani Associates'
passion is to translate the essence of emotions and thoughts into forms, colors and textures. We deeply believe that a beautiful decor can have a beneficial influence on our lives. Our designs are
creative and practical
, always guided by a spirit of total quality and customer satisfaction. Our planning and designing of any project is executed in accordance to availability of space, natural ambiance etc. We execute our projects always with new concepts and thoughts. Our work has been featured in various magazines and newspapers. For optimum success of your project we ensure that there is regular communication and continuous quality control. As our company grows and evolves we remain dedicated to the quality and design we have been offering our clients for series of years and so majority of our business is by reference and repeat clients.
Staying true to our Motto "MAKING SENSE OUT OF SPACE" we try to make the best of your space with available resources. Our motive is to help you discover ways to feel more connected to your space, so you can enjoy a sense of completeness. Our company provides integrated solutions that not only make your space look great but also create an optimal environment for achieving your corporate and personal lifestyle goals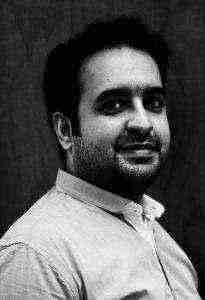 "Making sense out of Space" is the driving force behind Anish Motwani's work. Born in Mumbai and having the best of exposure to construction world through his dad who's an Structural Engineer, Anish never knew he would end up in design field. It happened to him "by chance" as he says and he grabbed the opportunity to the fullest. With several years of experience in the field and work been featured in various leading newspaper and magazine, Anish thirst for creating new is never ending.
Dream ➜ Imagine ➜ Design ➜ Create ➜ Admire